The sale service provides endpoints to purchase (virtual) items or physical cards for the user or for another person (i.e., a gift).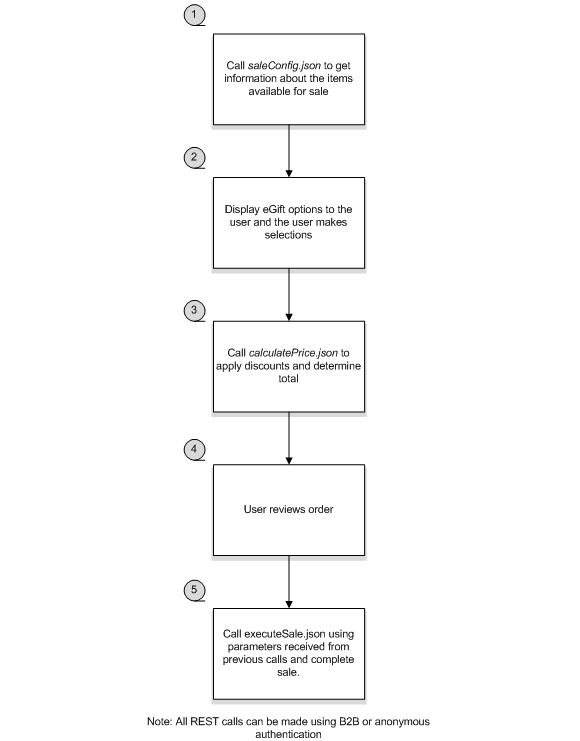 A successful call to

GET

sale/saleConfig.json

will return a "Program" object which contains the shipping/payment methods available to the user and the customization options for the specified eGift program.
User will select an image/amount for the eGift and provide information about the gift recipient.
The call to

POST

sale/calculatePrice.json

includes the items ordered and the shipping method. The server applies per-item and per-order discounts and returns a summary of the sale order in a successful response.
The summary is displayed to the user and the user proceeds to checkout
Perform a call to

POST

sale/executeSale.json

with shipping, billing, and sale information. The successful response returns a summary of the completed sale.
The following are the possible codes and messages that can be returned by the Sale Service.
There are other system-level errors which may be returned which are not documented here.
The caller of the endpoint can use the returned message to display to the end user or, if different wording is desired, can provide their own mapping of code to message.
| Code | Message |
| --- | --- |
| config_failed.invalid_card_number | Invalid card number |
| config_failed.invalid_card_template | Invalid card template |
| config_failed.invalid_tier | Invalid tier |
| config_failed.invalid_merchant_id | Invalid merchant id |
| config_failed.invalid_program_type | Invalid program type |
| config_failed.invalid_program | Invalid sale program |
| config_failed.invalid_program_for_card | Invalid sale program for card |
| config_failed.invalid_shipping_option | Invalid shipping option |
| config_failed.shipping_options_failure | Shipping options failure |
| config_failed.sale_items_failure | Sale items failure |
| config_failed.no_item_for_sale | No item for sale |
| config_failed.reward_promotions_failure | Reward promotions failure |
| sale_failed | Sale failed due to unknown error |
| sale_failed.invalid_card_number | Invalid card number |
| sale_failed.invalid_card_template | Invalid card template |
| sale_failed.invalid_tier | Invalid tier |
| sale_failed.invalid_merchant_id | Invalid merchant id |
| sale_failed.invalid_program_type | Invalid program type |
| sale_failed.invalid_program | Invalid sale program |
| sale_failed.invalid_program_for_card | Invalid sale program for card |
| sale_failed.invalid_shipping_option | Invalid shipping option |
| sale_failed.invalid_order_item | Invalid order item |
| sale_failed.invalid_user_record | Invalid user record for card |
| sale_failed.invalid_address_record | Invalid address record for card |
| sale_failed.invalid_point_wallet | Invalid point wallet |
| sale_failed.invalid_recipient_info | Invalid recipient information |
| sale_failed.invalid_delivery_method | Invalid delivery method |
| sale_failed.shipping_options_failure | Shipping options failure |
| sale_failed.sale_items_failure | Sale items failure |
| sale_failed.no_item_for_sale | No item for sale |
| sale_failed.reward_promotions_failure | Reward promotions failure |
| sale_failed.web_store_failure | Web store failure |
| sale_failed.not_enough_point_balance | Not enough point balance available |
| sale_failed.price_changed | Price changed since last evaluation |
| sale_failed.locate_email_service_failure | Locate email service failure |
| sale_failed.locate_payment_service_failure | Locate payment service failure |
| sale_failed.invalid_billing_contact | Invalid billing contact information |
| sale_failed.invalid_billing_address | Invalid billing address information |
| sale_failed.invalid_cc_processor | Invalid cc processor |
| sale_failed.invalid_item_style | Invalid item style |
| sale_failed.zero_total_price | Order total price is zero |
| sale_failed.cc_auth_failed | CC auth failed |
| sale_failed.cc_capture_failed | CC capture failed |
| sale_failed.duplicate_group_number | Duplicate group number |
| sale_failed.duplicate_item_number | Duplicate item number within same group |
| sale_failed.sale_image_failure | Sale image failure |
| sale_failed.integration_service_failure | Integration service failure |
| sale_failed.activate_card_failure | Activate card failure |
| sale_failed.invalid_recipient_message_template | Invalid Recipient Message Template |
| sale_failed.invalid_email | Invalid email address |
| sale_failed.facebook_disabled | Facebook delivery is temporarily disabled. Please use email. |